How To Choose the Best Tablet Screen Size
When choosing a tablet, deciding on the right screen size is critical. The decision to go small, medium, or large depends on what you want to use the tablet for, where it will be used, and your budget.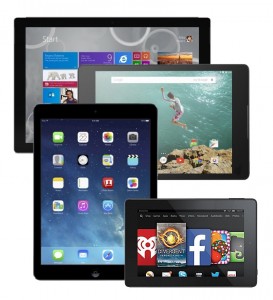 But before picking the right display, the first step is choosing what operating system you prefer. Once that decision has been made, then it's time to think about how large a device to get.
There are some basic tasks that every tablet is good for, including light web surfing, social networking, email, and casual gaming. There are others, though, that only become practical with larger screens.
7 Inches
Devices in this size are the most portable; they're small and lightweight enough to fit easily into a purse or bag. They are also the most affordable, as there is a range of budget models under $100 like the Asus MeMo Pad 7, and very good models that are just a bit more, like the Amazon Fire HD 7.
In addition to the collection of tasks all tablets are good for, a 7-inch display is especially convenient for ebooks, as tablets with this size screen are generally quite lightweight. On the other hand, they is not ideal for high-end gaming, watching long videos, or running productivity software like word processors and spreadsheets, partly because the screen is small but also because these inexpensive tablets typically have slow processors. They are for the most part "lean back" devices, used to consume content rather than create it.
Using the on-screen keyboard on models in this category is similar to typing on a smartphone: it's done with the thumbs while holding the device between the hands. This is easier in landscape mode, as the keys are larger.
Given their size, small tablets are often carried everywhere. They can even fit in a jacket pocket, a pair of cargo pants, and even some back pockets.
Just about all tablets with 7-inch screens run Google's Android OS, or an OS based on it, as is the case with the Amazon Fire tablets. Those thinking about a Windows or iOS device will need to choose something larger.
The rise of the large smartphones often called phablets has cut into the demand for small tablets. Those who have — or are considering buying — devices like the 5.7-inch Samsung Galaxy Note5 or the 5.5-inch Apple iPhone 6 Plus might consider if they have a need for a small tablet too.
8 Inches
Mid-size tablets are trying to offer the best of both worlds: they are close to the portability of smaller models but with screens large enough to be productive. Prices for these range widely; while the Lenovo TAB 2 A8-50 is just $129, they more typically sell for between $200 and $300.
An 8-inch screen is a bit better than a 7-inch one for the standard list of tasks, and still makes a good ebook reader. It's also a somewhat better option for game playing or watching video, although this isn't recommended for people who have issues seeing small objects. While mid-size tablets can be used for productivity tasks like word processing or spreadsheets, few would enjoy doing so for long periods on an 8-inch display.
Because the screen is much larger than the ones generally found in phones entering text with the thumbs so in portrait mode is easy, but the width of the screen in landscape mode makes this process a bit challenging.
Their 8-inch screens make these devices easy to carry around, but it's starting to require a bit more commitment. People who are already carrying a purse or backpack might find their easier.
The only iOS model in this category is the iPad mini 3, but it and its predecessors have been very popular. There are just a few Windows-based 8-inch devices, like the Eve T1, but there are plenty of Android ones with displays this size, including the Dell Venue 8 7840 and the Asus ZenPad S 8.0.
9 Inches
A handful of companies have released 9-inch tablets as a way to offer devices that are nearly full size, but at prices that are lower than most full size models. Like 8-inch devices, they are a compromise of portability, functionality, and price.
These 9-inch tablets are fine for the standard set of tasks, plus they can handle ebooks, video, and high-end games. They can even be used for word processing, spreadsheets, and other business tasks. That said, displays this size are a better fit for people with sharp eyes, as anything displayed on-screen tends to be small.
Typing with the thumbs on a 9-inch screen is still easy, but it's almost completely impractical in landscape mode. Putting the device down and entering text with the forefingers is a better option.
Models in this category are nearly as bulky as full size ones, and require a backpack, briefcase, or large purse.
Among the best 9-inch tablets are the HTC Nexus 9 and the Amazon Fire HDX 8.9, both of which run Android. Prices range around $400 or a bit less.
10 Inches
For years, a 10 inch screen was considered the sweet spot for full size tablets. These displays were smaller than the ones in most laptops but still large enough to do just about all the same jobs laptops do.
In addition to being outstanding at the standard tablet tasks, models in this category are quite good at video, and most of them can handle high-end games. They are also right for productivity and corporate applications and are carried by millions of business travelers. Some consider these devices too heavy to make ideal ebook readers, though.
Thumb typing remains practical with 10-inch tablets in portrait mode, but would be out of the question in landscape if it weren't for a clever trick: both iOS and Windows have a split keyboard built in. This divides the keyboard into two parts which are positioned on either side of the screen so that all the keys can be easily reached. Other popular options are to lay the tablet down and type with the forefingers, or purchase an external keyboard.
Although devices with screens this size are more much more portable than laptops, carrying one around is something of a commitment, and generally only done when by people who know they are going to need their tablet. These aren't devices that will go into a purse, but still ride well in a backpack or briefcase. Those traveling with a full size model should consider investing in a gadget bag.
The best known and best selling device in this category is the 9.7-inch Apple iPad Air 2 and its predecessors, but there are plenty of other good options. The standout among Windows models is the Microsoft Surface 3, with a 10.8-inch screen. Android users can many to choose from; some of the best are the inexpensive Samsung Galaxy Tab A 9.7 and the premium Samsung Galaxy Tab S 10.5 or the Sony Xperia Z4 Tablet.
A typical price for a 10-inch tablet is $500, though some are more and other less.
12 Inches
Tablets with screens larger than 10 inches are built to be laptop alternatives, and they target business users and have a focus on productivity. Many of the people who use their computer for a full work day demand a large display because they want to be able to work with multiple applications at the same time.
Not surprisingly, they easily handle the full range of tasks anyone would want a computer to do, from the basics of internet and email to the most demanding business software. Although games aren't their focus they can handle these as well, but are probably too large for lengthy ebook reading.
Thumb typing in portrait mode is possible, though the size and weight of a 12-inch tablet can make this a bit cumbersome. Thumb typing in landscape mode is also possible thanks to the split screen keyboards mentioned earlier, but putting the device down and typing with the forefingers is probably more popular, and some models in this category come with an external keyboard. If not, adding one is highly recommended to take advantage the full capabilities of the computer.
Tablets of this size aren't carried around casually; they go to meetings or business trips, or maybe to classrooms. A small laptop bag is often a good option for transporting them, though backpacks and briefcases are also good options.
Just about all models with displays this size run Windows, like the Microsoft Surface Pro 3. There have been just a handful of Android models in this category, but Apple is throwing its hat into the ring with the iPad Pro in November.
As the largest and most powerful tablets on the market, these are also the most expensive. Prices generally start at $800 and go up from there.