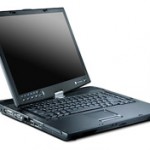 The innovative Gateway C-140 Performance Convertible Notebook delivers outstanding value in a 14-inch widescreen. It combines a notebook s power with an Intel Core 2 Duo Processor T7100 and integrated Intel GMA X3100 graphics performance with the pen-and-paper ease of a Tablet PC. Plus, you'll get more than 10 hours of battery life and wireless freedom to revolutionize the way you work, learn and play.
Read Our Full Review: Gateway C-140x Tablet PC User Review
Sorry pricing for this product is not found. Here is pricing on some similar products.

POWERED BY: