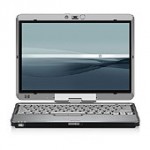 Starting at only 3.6 lbs and 1.11 in thin, the HP Compaq 2710p Notebook PC offers you the functionality of an ultra-light notebook plus the flexibility of an ultra-slim tablet. 12.1-inch diagonal widescreen Illumi-Lite display provides for a lighter and more energy efficient notebook, providing improved battery life, compared to past generation Tablet PC s. The chemically-strengthened glass top provides improved durability and a superior writing experience. An optional outdoor display panel improves viewability in sunlight; providing more contrast and less reflections.
Pros

Solid design and sturdy chassis
Sleek appearance with brushed aluminum accents

Cons

Pen falls out of silo sometimes
Hinge has a little wobble when in notebook mode
Quick Take
Even though the 2710p isn't packed with features it is a lightweight solid tablet
Read Our Full Review: HP Compaq 2710p Tablet PC Review (Video)
Sorry pricing for this product is not found. Here is pricing on some similar products.
POWERED BY: