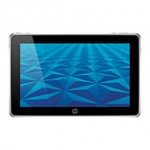 The HP Slate is a full-featured Windows 7 based tablet PC with touch capabilities in a sleek lightweight design.
Pros

Wonderful inking experience
Native Windows application support
Good number of connections and ports
Strong video playback capabilities

Cons

Doesn't support a lot of touch optimized software
Low battery life compared to ARM based slates
Expensive compared to consumer slates
Poor viewing angles in primary landscape mode
Quick Take
The HP Slate isn't a revolutionary device nor is it an iPad killer. It is nonetheless very evolutionary.
Read Our Full Review: HP Slate 500 User Review
Sorry pricing for this product is not found. Here is pricing on some similar products.
POWERED BY: