Amazon Fire HD 10 (2017) Review: Inexpensive But Good Full-Size Tablet
Pros

Low price
Great screen
Lots of storage capacity
Hands-Free Alexa

Cons

Somewhat thick and heavy
Strongly tied to Amazon
---
The Amazon Fire HD 10 is this company's biggest and most powerful tablet, but it's still less than $150. That budget price gets a 10.1-inch, high-resolution display, much better performance than its predecessors, and twice as much memory. But what sets it apart from the crowd is hands-free support for the Alexa personal voice assistant.
Read our in-depth review to see if this Amazon slate lives up to its potential.
Amazon Fire HD 10 Build and Design
The bezels on this tablet's 10.1-inch screen modernly sized, so the length and height of this tablet isn't much larger than its display: 10.3 by 6.3 inches.  Premium devices tend to be very slim and light, so the 0.4 inch thickness and 1.1 pound heft make it clear this is a budget model. It's not terribly bulky, but it is thicker and heavier than more expensive options.
A plastic casing with rounded edges and corners covers the sides and back. Shoppers can choose from black, blue, and red options. Silver buttons add a touch of class, and are easy to see. A large Amazon logo is on the back.
Build quality is fine, with the external parts coming together nicely. And the Fire HD 10 feels solid. Our test unit flexed only marginally when we attempted to bend it, though there was a slight creaking noise. The plastic casing is moderately easy to scratch, however.
Amazon Fire HD 10 Display
The 10.1-inch screen has a 1920 x 1200 resolution, resulting in 224 pixels per inch.  In layman's terms, that's a very nice display, with more pixels crammed into each square inch than most of its rivals; only the most expensive tablets have more.
The screen is quite bright. We found the 2017 version of the Fire HD 10 quite easy to use outside, if not in direct sunlight. And colors are vivid. Combined with the high pixel density, all the video, images, and text we looked at in our testing appeared bright and clear.
This tablet offers wide viewing angles; wide enough that two people can watch a movie or TV show together.
Amazon chose a 16:10 aspect ratio, which means that, in landscape mode, it's shaped like a widescreen TV. In portrait mode, it's much thinner than a piece of letter paper.
The Fire HD 10 doesn't offer side-by-side multitasking. There's no way to display two applications on screen at the same time. This is a feature available on more expensive models, and it's too bad it's missing from this one, as it works well on screens with this aspect ratio.
Amazon Fire HD 10 Ports, Buttons, Cameras
On the top edge of this computer is a micro-USB port, used for charging the battery, but also much more. We recommend investing $5 or $10 in an adapter to convert micro-USB to regular USB Type-A, as this will allow the Fire HD 10 to access standard thumbdrives, keyboards, and mice. We successfully tested the tablet with a USB hub and all three of those types of peripherals simultaneously.
Amazon didn't leave out a microSD removable memory card slot. This supports up to 256 GB cards, though we only tested our unit with a 64 GB one.
There's a 3.5 mm speaker port, which is good because the built-in speakers don't have much power. More on this in the next section.
As mentioned, the buttons on the Fire HD 10 are silver to make them easier to see. There are only two of them, both on the top edge: one is for Power, the other is a volume rocker.
The front-facing VGA camera is adequate for video conferencing. The 2 MP rear-facing camera can do 720p HD video recording.
Amazon Fire HD 10 Speakers
A pair of speakers can be found on the left edge of this tablet. Rotating the device to landscape to watch video puts the speakers on the top edge. This isn't front facing, but at least they aren't on the back of the device like far too many tablets.
These speakers put out a moderate amount of sound. In our testing, we could easily hear the audio from a movie while sitting 3 feet away in a somewhat noisy room. However, that required turning the speakers up all the way. Listening to music or  a podcast from the other side of a room required hooking up an external speaker.
These include Dolby Atmos, so that movies that also support this technology can mimic surround sound.
Amazon Fire HD 10 Performance
The 2017 version of the Amazon Fire HD 10  has a quad-core processor made by MediaTek. Two of these cores run at 1.81 GHz for more performance, or the tablet can switch to dual 1.4 GHz cores to save power.
We tested it with Geekbench 4 to see how well it stacked up against the current competition: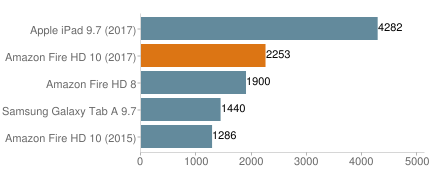 Amazon promised that this device is 30% faster than its immediate predecessor. Based on the benchmark scores, it more than surpasses that goal. The Fire HD (2017) also performs better than all the similarly-priced models we compared it against. It was solidly beaten by the latest 9.7-inch iPad, but that costs about twice as much.
This tablet includes 1.77 GB of RAM. While minimal, this is adequate, especially as this tablet can't run two applications side-by-side.
Buyers have a choice between 32 GB and 64 GB of storage, twice as much as earlier FIre models. In addition, users can store items on microSD cards, and Amazon offers free unlimited cloud storage for content purchased from this retailer (movies, books, games, etc.)
Amazon Fire HD 10 Software and Alexa
Amazon has an unusual strategy for its tablets. According to this company, the latest Fire HD 10 runs Fire OS 5.6, which will surely leave most people scratching their heads. The "Fire OS" is just a skin covering Google's Android OS. So, under the hood, the Fire HD 10 is actually running Android 5.6.
What this whole "Fire OS" business really means for users is that Amazon has replaced Google's standard home screen with one that heavily emphasizes all its products. And it has stripped out Google's app store and put in its own. Plus, Google Maps, Google Docs, Gmail, etc. aren't available under Fire OS.
Among the other results, the use of Fire OS makes this a very consumer-oriented device. Most notably, there's no versions of Word, Excel, etc. in the Amazon App store, though OneDrive is available. Amazon does provide basic replacements so it's possible to, for example, edit a Word document emailed from the office while on vacation. But this isn't something that practical on a daily basis.
The news isn't all bad. Amazon was able to build hands-free support for Alexa in the Fire HD 10 (2017). This means that, from across the room, one can just say something like "Alexa, what's the weather forecast?" and the tablet will read out current conditions. And because this is a tablet, visuals for many of the requests are shown on screen as well. This service is very powerful, and getting better all the time. Optional third-party services can tie into Alexa (called "Skills") to add new features like a daily Jeopardy mini-game.
Just be aware that Alexa is listening all the time, not just when you're making requests. Amazon makes it clear that it is recording and saving as much of this  audio as it wants to. Fortunately, Alexa Hands-Free can be easily toggled on and off.
Amazon Fire HD 10 Battery
Amazon promises 10 hours of battery life, so of course we put this to the test. We set up our unit to play video streamed over Wi-Fi with the screen set at 50%. The Amazon Fire HD 10 (2017) lasted 11 hours and 36 minutes in this torture test, That's a fine amount, if not as long as many rival devices. It's a solid day of heavy use.
Battery life comparison chart (listed in minutes):


We were concerned that always-on Alexa would be a drain on the battery, as it requires the device to be constantly listening, but that's not really the case. We left this tablet sitting unplugged for 24 hours, making only infrequent Alexa requests and using it for nothing else, and the battery was at 81% at the end of this test.
In our testing with the wall plug and cable bundled with this device, one hour of charging resulted in the battery going up 28%, so plan for 3 to four hours to recharge the Fire HD 10, depending on how depleted it is. While faster charging is always better, at least you can count on a complete recharge overnight.
Amazon Fire HD 10 Final Thoughts
Budget tablets are generally focused on consumers, and the Fire HD 10 (2017) has an even narrower focus: consumers who are big fans of Amazon. But those who are in this group will find that this device has a beautiful screen, good performance, and long battery life for a low price.
Everyone else could easily find that this model, like all the Fire tablets, is too tied to Amazon to suit them.
As discussed, the base model Fire HD 10 is $149.99. This comes with 32 GB of storage. The 64 GB variant is $189.99. Getting these prices requires accepting Amazon advertisements on the unlock screen and in the notifications, however. Either version costs an additional $15 to leave off these "Special Offers". These aren't onerous, so saving the $15 is probably worth it.
Another way to look at this device is that it can do everything an Amazon Echo Show can do, plus more, and at a lower price.
In addition, Amazon is offering folio cases with built-in stands in a variety of colors. These sell for $39.99.
Pros:
Low price
Great screen
Lots of storage capacity
Hands-Free Alexa
Cons:
Somewhat thick and heavy
Strongly tied to Amazon