Samsung Galaxy TabPro S 2-in-1 Review: Windows 10 and Super Slim
Pros

Beautiful screen
Good performance
Bundled with keyboard folio case
USB Type-C port

Cons

No microSD card slot
Stylus/pen sold separately
Flipping keyboard behind screen puts device to sleep
Quick Take
A stunning Super AMOLED display and slick design make the Samsung Galaxy TabPro S an excellent Windows 10 tablet. Unlike rival devices, it comes bundled with a keyboard, making it an excellent Windows 10 two-in-one as well.
---
Two-in-one PCs serve double duty as both notebooks and tablets and are growing in popularity, especially among business people and prosumers. The newest high-profile entry in this market is the Samsung Galaxy TabPro S 2-in-1, which runs Windows 10 on an Intel Core m3 processor, sports a 12-inch Super AMOLED display, and comes bundled with a keyboard.  The standard TabPro S ships with 4GB of RAM and 128GB of storage, and it's available now for $899.
Build and Design
The Galaxy TabPro S 2-in-1 is sleek and professional; it looks high-end because it is high-end. It's available in black and white, with black being the classier option. Samsung's offering is just 0.25 inches thick, which makes it thinner than both the Surface Pro 4 and the iPad Pro 12.9. At 1.5 pounds without its case, it also weighs less than either Microsoft's or Apple's devices, and it's light enough to comfortably hold for long stretches.
The TabPro S measures 11.4 inches wide and 7.8 inches tall. It's been designed to be used in landscape mode, and that's the most comfortable way to hold it.
Screen
This Samsung Galaxy TabPro S 2-in-1's best feature is its Super AMOLED display because this screen tech is superior to the traditional LEDs found in other tablets and laptops. Instead of external backlighting, each AMOLED display pixel glows on its own, resulting in more vivid colors in a screen build that's thinner and lighter. It's also brighter, even though it requires less power.
Resolution is 2160 x 1440. With a 12-inch screen, the density is roughly 216 pixels per inch, which is fairly high, though not as high as some rivals. Still, this is a beautiful display, with sharp text and images. One of the advantages of Super AMOLED displays is that they look exceptional even outdoors, and the TabPro S is no exception. That doesn't mean this screen is easy to see in direct sunlight, however, but it can easily handle working in the shade.
Samsung doesn't bundle a stylus/pen with this model, though will soon offer one separately. That's unfortunate, as Microsoft is going to emphasize handwriting in the next iteration of Windows 10. More than that, though, when using this computer as a tablet without its keyboard and trackpad attached, a pen is sometimes necessary to interact with the very small on-screen controls that that can still be found in many Windows applications.
Buttons, Ports, and Speakers
The Galaxy TabPro S includes a USB Type-C port, a new and improved version of this venerable USB standard. It's just slightly larger than a microUSB port, but supports much greater power flows and faster data transfers, while also being reversible. In addition to more traditional accessories like mice, this port is the only non-wireless option for connecting to an external monitor or wired Ethernet networks. That means you'll also need an adapter, which Samsung is happy to sell you separately as well.
Samsung did not include a microSD card slot. Users will need to turn to thumb drives and/or card readers for non-cloud removable storage. Once again, these will have to be native USB Type-C, or will require an adapter.
The power button rests on the top landscape edge of this device, with a volume rocker next to it. There's a Windows button on the right side. There are no buttons on the front or the other sides, while a smart connector for the keyboard takes up the entire bottom edge. There are two speakers on the left and right sides, just far enough apart for stereo effects to work when sitting within a few feet of the TabPro S. Our tests indicated that these put out enough sound that it's possible to watch video in a moderately noisy environment.
Keyboard Folio Case
Unlike the Surface Pro 4 and iPad Pro, Samsung bundles a clip-on keyboard with its offering, making the Galaxy TabPro S a true 2-in-1. The keyboard is set in a folio case that acts as a stand for the tablet when typing, and there's a trackpad integrated into the design.
The keyboard area measures 10.7 inches across, making it as wide as a typical desktop keyboard. Most keys are 0.7 x 0.7 inches with no spaces between them, and these are arranged in the standard QWERTY layout of six rows. This keyboard is spacious enough to accommodate even those with large hands. There's decent key travel, and typing is fairly quiet. On the negative side, the top row of keys rest very close to the TabPro S, making any top-row key presses a crowded endeavor.
The trackpad is 3.5 x 1.7 inches, which is large enough to be easily usable. The surface is smooth, with the entire left side functioning as a clickable left mouse button, and the right side as the right mouse button. The folio is quite slim and light. With the TabPro S, the combination measures 0.5 inches thick and weighs 2.4 pounds. The case can hold up the tablet's screen at two angles: one about 60º and the other about 30º. Typing with this 2-in-1 held in the lap is easy.
Closing the tablet down over the keyboard automatically turns the screen off, which is good, but flipping the keyboard around to the back also turns the screen off, which is definitely a problem. Users are going to be forced to remove the keyboard whenever they want use the TabPro S as a tablet, rather than just rotating the keyboard out of the way.
The case can save this device from light bumps, but is too lightweight and minimalistic to offer serious protection. Tablet and case are held together with magnets, so they are easy to separate, and there's a cutout on the back of the folio for the rear-facing camera.
Performance
The Samsung Galaxy TabPro S 2-in-1 runs Windows 10 on a 2.2GHz dual-core Intel Core m3-6Y30 processor. This is a sixth-generation chip, the very latest from Intel, and along with 4GB of RAM provides more than acceptable performance for most professionals. Check out our benchmarks below to see how this model stacks up against some similar devices, like the Core m3 version of the Surface Pro 4.
The TabPro S comes with 128GB of built-in storage. This is an SSD (solid-state hard drive), not a slower eMMC like the ones in many less expensive Windows tablets. Samsung has mentioned a 256GB version, but either this isn't available in the U.S. yet, or is being sold only through business channels.
Specs
12-inch touch AMOLED display (2166×1440 resolution), 360 nit brightness
Windows 10 Pro 64-bit
Intel Core m3 (4M Cache, up to 2.20 GHz)
Intel HD 515 integrated graphics
4GB LPDDR3 (1600MHz) RAM (non-expandable)
128GB SSD
802.11 a/b/g/n/ac dual-band Wi-Fi
Bluetooth 4.1
5-megapixel rear camera, 5-megapixel front camera
Dimensions: 11.43 x 7.83 x .25 inches (tablet only)
Weight: 1.53 pounds (tablet only)
1-year standard parts and labor warranty
Ships with keyboard folio case, Adaptive Fast Charger
Price: $899
Benchmarks
wPrime processor comparison results (listed in seconds – lower scores mean better performance):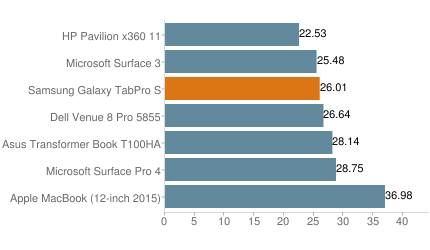 PCMark8 Home (Accelerated) measures overall system performance in Windows for general activities from web browsing and video streaming to typing documents and playing games (higher scores mean better performance):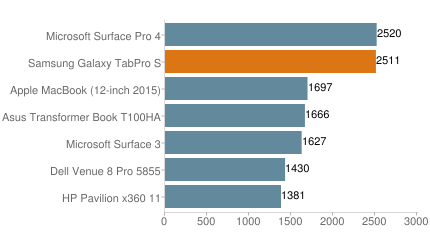 PCMark8 Work (Accelerated) measures overall system performance in Windows for work-related productivity tasks (higher scores mean better performance):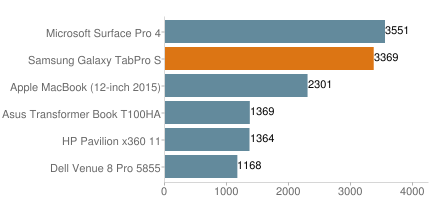 3DMark 11 is a benchmark that measures overall graphics card performance for gaming (higher scores mean better performance):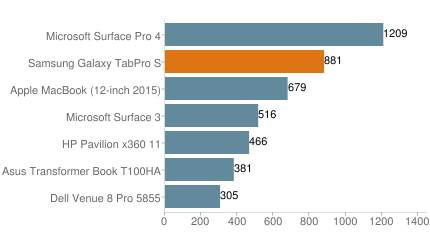 CrystalDiskMark storage drive performance tests: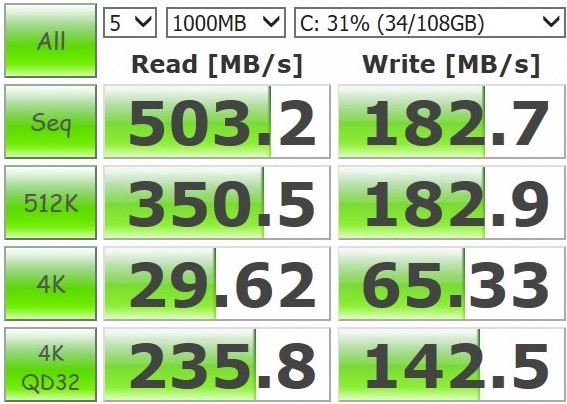 Heat and Noise
Given the svelte build of the Samsung Galaxy TabPro S 2-in-1, it shouldn't surprise anyone that it doesn't have a fan and is completely quiet when running. This is the Core m processor specialty, and it keeps things cool and quiet.
Software
When purchased through consumer channels, the Galaxy TabPro S 2-in-1 runs Windows 10 Home, while Samsung's business channels offer it with Windows 10 Pro. These replacements for Windows 8.1 are well-suited for 2-in-1s like this one, as they offer a mode specifically for use when the computer is being used as a tablet, and a second one for when it's functioning like a laptop. Removing and replacing the device from its case can automatically switch modes.
As the Galaxy TabPro S has a 12-inch screen, it's too large to qualify for Microsoft's free Office Mobile apps (the cutoff point is 10.1 inches). Still, the device comes with a collection of free apps from Microsoft, most of which were greatly improved with the release of Windows 10.
Wireless
Like its top-of-the-line competitors, this 2-in-1 comes with 802.11 a/b/g/n/ac MIMO, and Wi-Fi Direct, and also includes Bluetooth 4.1 and GPS. NFC is built-in as well, and can be used with a nifty trick in which the fingerprint scanner built into a Samsung phone like the Galaxy S7 can be used to unlock the tablet. After setup, the phone can be placed on the keyboard next to the trackpad, and a touch of a finger to the biometric sensor on the phone takes the place of the Windows password or PIN on the tablet. Samsung claims that there's a version of the TabPro S with built-in 4G LTE, but this has yet to be released in the U.S.
Camera
The main, rear-facing camera has a 5 megapixel resolution, which is slightly low for a high-end tablet but reflects the reality that most users don't take many pictures with 12-inch devices. The camera is up to the job of capturing quality images in good or excellent conditions, but can't really handle anything else. There's no flash, so low-light photography isn't practical.
The secondary camera is also 5MP, which is quite good for a front-facing shooter, because many people actually will frequently use this for video conferencing with Skype.
Battery
Samsung claims the 5200mAh battery in the Galaxy TabPro S is good for up to 10.5 hours of use, which we found to be overly optimistic. We put this 2-in-1 to a real world test by using it as our computer while writing this review. The keyboard was attached, Wi-Fi was on, Bluetooth and NFC were off, and the screen was at 50%. We started at 9AM, and the computer slept for three hours during lunch and meetings. At just before 5 pm the tablet went into Low Power Mode because the battery had dropped below 20%. After another hour the computer warned that it needed to be plugged in, which means we got roughly 6 hours of use.
To further test the battery life, we ran Futuremark's PowerMark benchmark in balanced mode, and it lasted for 4 hours and 56 minutes. The test consists of a combination of automated web browsing, word processing, gaming, and video playback workloads, and is far more strenuous than typical web browsing alone, measuring the machine under a litany of scenarios to better simulate high-stress usage. With the test being far more demanding the scores are understandably lower than what users will experience just checking Facebook or watching Netflix.
Powermark battery life benchmark test results listed in minutes (higher scores indicate longer battery life):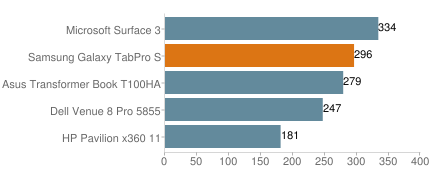 Conclusion
We found the Samsung Galaxy TabPro S 2-in-1 to be a really outstanding tablet, and one certainly capable of holding its own in the market . Its Super AMOLED display is its strongest feature, but the slim and lightweight design is a close second. We generally loved using it as a tablet, and the keyboard case that converts it into a laptop is a very nice addition.
That said, the keyboard is close enough to the screen that things can feel cramped, and the fact that swinging the keyboard behind the display puts the computer to sleep is a real design problem. There's also no microSD card slot, nor stylus/pen packaged with the device.
Value
The only consumer version of the TabPro S available in the U.S. at this time has 4GB of RAM, 128GB of built-in storage, and a clip-on keyboard. It costs $899. For comparison, a Microsoft Surface Pro 4 with the same amount of RAM and internal storage capacity, a slightly larger display, plus a pressure-sensitive pen but no keyboard costs exactly the same: $899. Adding the Microsoft Type Cover increases the total by $129.99 or $159.99.
Pros
Beautiful screen
Good performance
Bundled with keyboard folio case
USB Type-C port
Cons
No microSD card slot
Stylus/pen sold separately
Flipping keyboard behind screen puts device to sleep